Overview of surebets calculators
It's hard to imagine a scanner that doesn't have a surebet calculator. In some cases, it is very convenient, multifunctional, and sharpened for both pros and Amateurs. Sometimes too complex, and sometimes too simple. So how do I make a choice? And we will tell you.
Today we offer you an overview of arbs calculators, we have selected the best services that are on the market. We will describe them in detail, point out their functionality, indicate their advantages, and provide other useful information. We hope this information will be very useful.
Surebet calculator
Surebet is a good surebet scanner. And if you enter a query in the search engines "surebet calculator", it will always be displayed in the first place. Here, by the way, is what it looks like: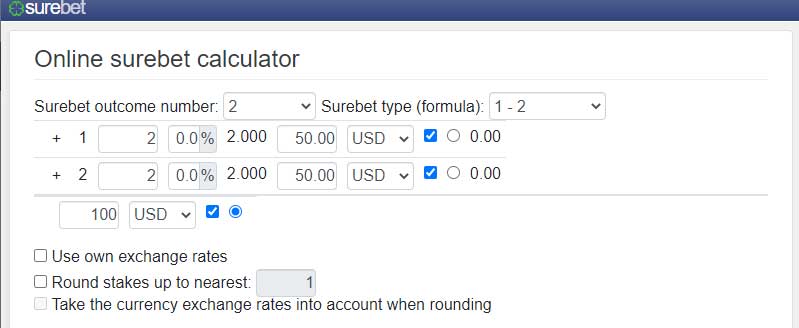 Let's go through the main sections of the calculator and find out what it is intended for:
Number of outcomes. Here you can select the number of outcomes in the arbs: two-way, three-way.
Type of surbet. Specify which types of markets we will use. Many of them. For example, there are: 1-X2, 1-2, Total Over- Total Under. There will be completely different markets for three-way arbs.
Coefficient. Everything is clear here, we enter the coefficients for each "arm".
With the commission. If we bet on a betting exchange, we can specify its Commission. Or if the bookmaker charges a percentage when withdrawing money.
Rate. The amount of the bet on each "arm". There is a total value at the bottom.
Currency. You can choose the bid currency. 30 items are supported, and this is one of the advantages of the scanner. All popular currencies that are used in 99% of bookmakers.
Use your own exchange rates. You can specify your own courses that differ from the scanner.
Round bids to. You can round bets to 1, 2, 10, and so on.
Take into account currency exchange rates when rounding. We think that everything is clear without explanation.
These are the main sections of the Surebet calculator. As you can see, this is a powerful tool with extensive functionality. You can use it to calculate arbs very accurately, and with different currencies, Commission, and profit distribution. For professionals, the most important thing. Although beginners will be comfortable here, because you can not touch anything, but just calculate the classic bet amounts without additional conditions.
BetBurger calculator
BetBurger is the most popular and powerful arbs scanner. Of course, it also has a calculator, which also has a wide functionality and a lot of settings. There is a full range of tools for professional work. They are almost identical to what is in Surebet, so it doesn't make sense to describe each section in detail.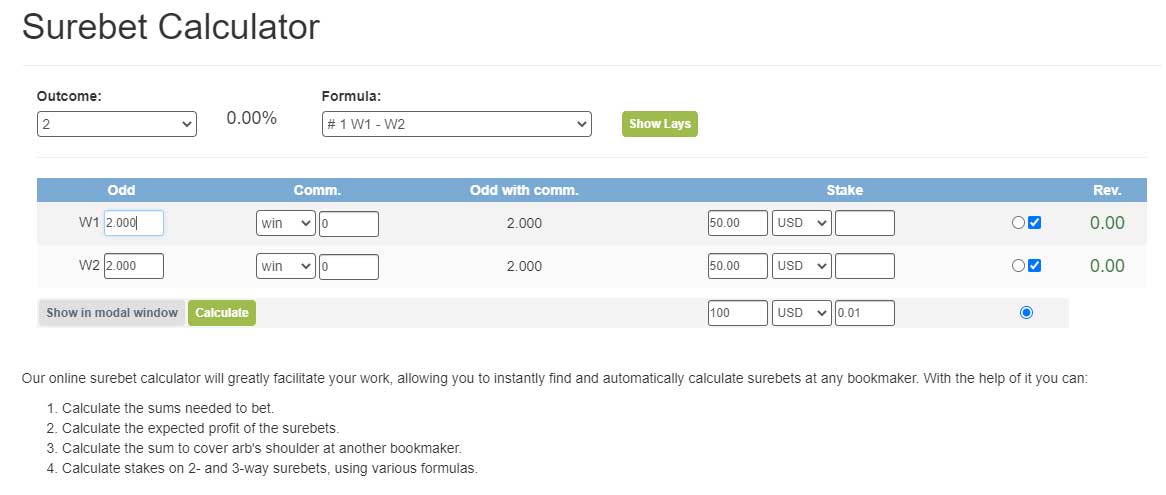 Note that the Betburgets calculator is not intuitive, everything is quite complicated here. It will be especially difficult for beginners to understand. The main sections are marked as expected: rates, coefficients, yield, arbs type, and so on. But there are no hints on the boxes with profit distribution and bid fixing. You can sit for a long time and think about what they are for, if you do not have experience.
BreakingBet calculator
BreakingBet is one of the best scanners  in terms of price-quality ratio. There are no specific calculator, it opens only with reference to each event. In other words, click on the special icon next to the match. Then you can twist and turn as you want: specify the odds, the amount of bets, and other data. The calculator will quickly calculate everything. Note that to use the tool, you must pay one of the rates, there are no free arbs up to 1%. This is not available and the calculator, it can be called one of the main disadvantages of the scanner.
However, BreakingBet does not lack clients. The calculator created for them is excellent. Its functionality is quite extensive and will meet the requirements of any player, including a professional. There is a full set of tools here: choosing a currency from 30 names, rounding up bids, profit distribution, and so on. In short, everything you need for a professional betters. The functionality of the BreakingBet calculator almost completely copies the functionality of Surebet. Moreover, it is most likely created on its basis. The tabs are exactly the same, the buttons are the same, only the appearance is different.
Arbmate Calculator
Here, the calculator also does not act as a separate tool, it is located directly next to the scanner output on the right side. The user clicks on the surebet header, and then its data is loaded into the calculator. Then the bet amounts for each "leverage" and yield are automatically calculated.
The ArbMate calculator boasts average functionality. It supports about 30 different currencies. You can adjust the coefficients, bid amounts, and take into account the exchange Commission. Unfortunately, there is no way to distribute profits and fix bids. But there is a history of changing coefficients by hours and minutes. 
The calculator is only half translated, and some tabs and hints are displayed in English. Although this is not critical, everything is clear on an intuitive level. ArbMate is suitable for regular customers of the scanner. its functionality includes all the necessary tools for calculating bids and profits from them. But as a separate service, it is hardly cost-effective to use it, especially for professional bettors.
Result
We reviewed the best surebets calculators of all by objective indicators: player reviews, functionality, convenience,and speed. Of course, almost all scanners have calculators, plus various sites offer this tool for free. 
When choosing an arb calculator, be very specific about what you need it for. If you want to make quick and straightforward payments without taking into account commissions and currency exchange rates, give preference to simple tools. If you have to make more complex calculations, and even with large amounts, you should give preference to more advanced tools.
Of course, if you use a certain scanner (paid), it will definitely contain a calculator. It is usually integrated into the site and linked to each event. But if you are not satisfied with this option, please, no one forces you, you can always use other options, since there are enough of them.
That's the end of it. If you have something to add, welcome to the comments. We will be happy to talk and answer your questions.